MALAYSIA
This quarter's case study comes to us from our friends in South East Asia. Our Malaysian distributor, Surechem Sdn. Bhd., recently developed a flood warning system for a joint project with the Johor Forestry Department and Associate Professor Ir. Dr. Azman bin Kassim and his team from the University of Technology Malaysia.
The Gunung Pulai 1 Forest Eco Park is a recreational area located 50km from Johor within the lower level area of Gunung Pulai. Initial studies showed that the recreational area to be potentially exposed to slope failure and landslides. On the 27th December 2001, a significant landslide occurred in the area causing not only loss of life but also significant damage to properties and infrastructure. A government appointed technical committee was formed by the State Government of Johor with the purpose of investigating and studying the main triggering factors contributing to the 2001 landslide. This Technical Committee recommended the Gunung Pulai 1 Forest Eco Park be closed to the public and visitors until conservation and mitigation works had been carried out.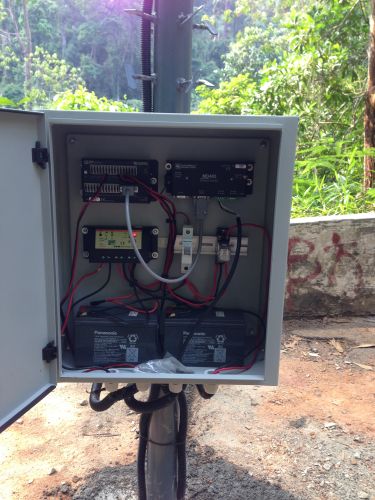 In the current development, the Gunung Pulai 1 Forest Eco Park Administrator requested a reassessment study to be conducted prior to the Gunung Pulai 1 Forest Eco Park reopening. The reassessment study strongly recommended that a flood warning system be installed in the Gunung Pulai 1 Forest Eco Park. This early warning system would provide adequate time for the Gunung Pulai 1 Forest Eco Park Administrator to warn the public and visitors of any
imminent danger.
The warning system consists of three (3) CR300 measurement systems that measure the Rainfall and Water Level using a Rimco 8050 Tipping Bucket Rain Gauge and a MJK 7070 Level Transmitter, respectively. Each station has communications that are handled by an RS485 link and also warning sirens that are activated to alert the nearby population when required. The system autonomously monitors rainfall and water level and, in the event these parameters exceed a set threshold, will trigger a siren with a "yelp" tone. Another threshold is set at a maximum threshold, where the siren commences a steady warning tone indicating imminent danger.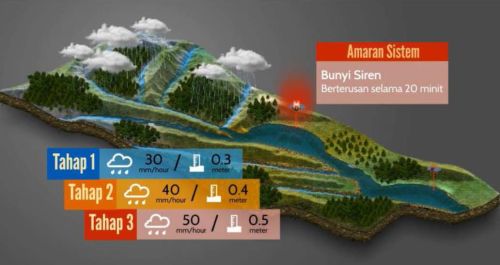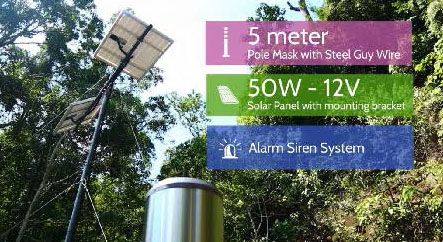 Data collected thus far has been extensively analysed with land slip monitoring software to ascertain the required thresholds for both the initial warning and imminent sirens. The collected data is also providing valuable information being used for research into rainfall induced landslides throughout Malaysia.