In an effort to make software purchases easier, you can now simply download your software solution for your applications including LOGGERNET, RTMC, CSI Webserver, LNDB, VISUALWEATHER, Etc.
The process is as follows:
Place your order via the 'ordering info' and subsequent 'Add' button on our website. The software should then appear in your order cart.
After finalising your purchase, select 'request a quote' and one of our team will respond to your request.
Alternatively Contact us on : info@campbellsci.com.au or +61 (0)7 4401 7700
At the point of finalising your order, the chosen software item will be appended with a –D option for Download. If you would prefer to download AND receive a physical CD copy of your software, simply select the –DD option.
Upon ordering you will be sent the serial number and activation key.
Your software will then be available to download to your PC by a link provided in the example email as shown below: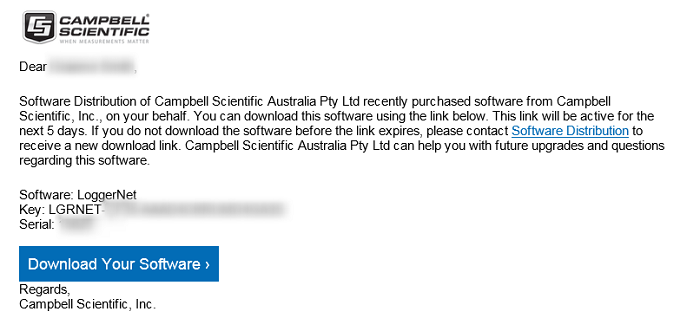 A Download link will typically remain active for five days. If you need to access the download link after it has expired, simply contact our office for assistance.
Our software licence policy has not changed and an individual licensed copy is still required for each computer.
Upgrades are available from previous software versions at a reduced cost.
Multiple licence purchase discounts may also be available. Contact our office for details.
The benefit of the availability of direct download for CS software will save you both time and money when compared to the traditional model of having to purchase a hard copy.