Our SE Asian region is booming! With a growing economy and an increasing interest in the advantage of instrumentation for commercial development, research or environmental concerns, it is not surprising that our equipment is rapidly gaining interest in this region. This success has been aided by the opening of our Campbell Scientific South East Asia (CSSEA) office earlier this year in May 2015, which is now benefitting the whole Indochina region (Thailand, Vietnam, Cambodia, Laos and Myanmar).
Campbell Scientific Australia has visited the region twice this year in support of our committed distributors.
Distributor and customer visits – 27th of July to 7th of August 2015
The end of July saw former Managing Director Rob Kurz and Corinne Malot, SE Asian Coordinator, visit our distributors and key customers. Areas visited were Thailand, Philippines, Singapore, Malaysia and Vietnam and our Indonesian distributor joined us in Vietnam for a catch-up. The time spent in Thailand and Vietnam also couples as a great opportunity to discuss the final handover of the region now being looked after by CSSEA.
The CSA and CSSEA teams at the new CSSEA office
Customer visits showed an increased interest in flood warning equipment, especially in countries such as the Philippines, Indonesia and Vietnam which have recently experienced major environmental events. General weather stations with reliable communication, alongside disaster management equipment supporting fail proof alarming features were also a high priority topic.
A year after our last visit, the growth and increased knowledge of our distributors was significantly noticeable bringing faith in knowing that this region is in good hands for supporting our SE Asian customers through high quality service and advice.
SE Asia conference in Bali – 26th to 30th of October 2015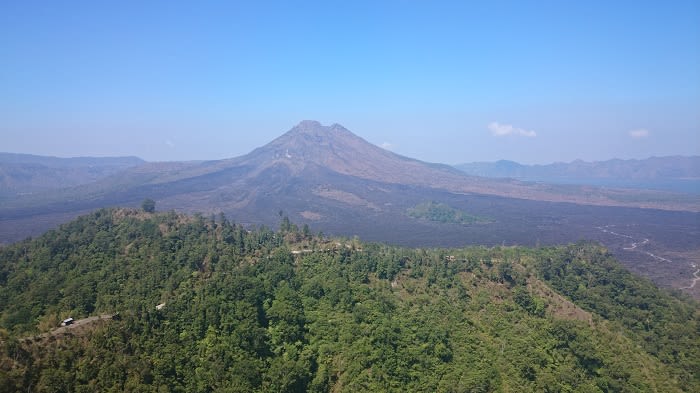 Mount Batur at Kintamani, Bali, Indonesia
With direct flights from Townsville (CSA headquarters) to Bali opening as of the 1st of September 2015, holding our second annual SE Asia conference in Bali seemed like an ideal choice. Bali was a perfect destination to discuss how well the region has been performing over the last year and what would need to be implemented in the future to increase our presence and satisfy customer demand in SE Asia.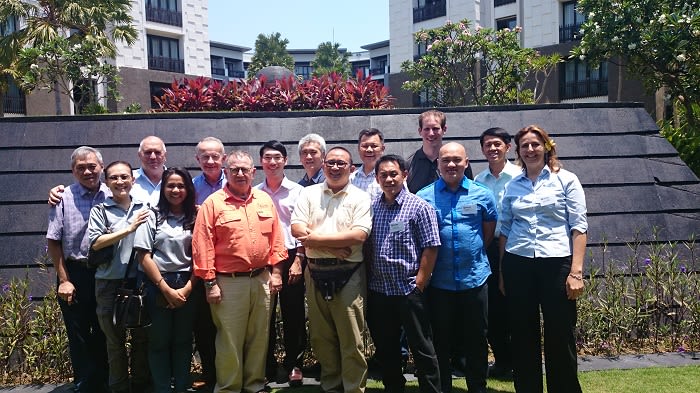 The SE Asia Conference group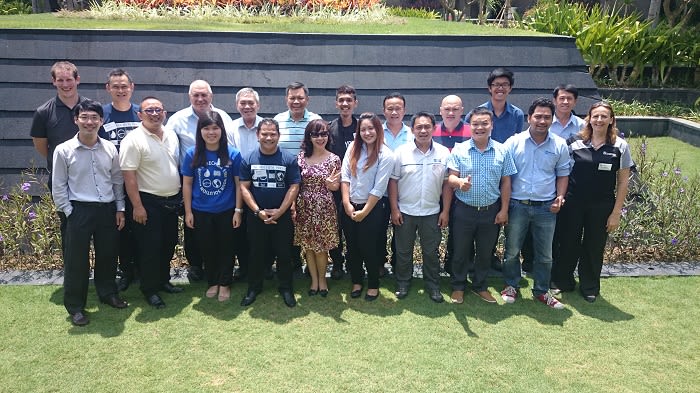 The SE Asia Sales and Technical training group
CSA and CSSEA worked collaboratively towards this event. It was great to see all countries represented this year with the following participants attending:
| | | |
| --- | --- | --- |
| Country | Distributor | Specialty |
| Indonesia | PT Gistec | Geotechnical and Environmental |
| Malaysia | GDS Instruments | Geotechnical |
| Malaysia | Surechem | Environmental |
| Philippines | PT Cerna | Geotechnical and Environmental |
| Singapore | Wetec | Environmental |
| Thailand | STS Instruments | Geotechnical |
| Vietnam | Megatech | Environmental |
| Vietnam | Geotech International | Geotechnical |
Steve Bailey (CSA Managing Director), Gavin Hewitt (CSA Head Trainer), Corinne Malot (CSA SE Asia Coordinator), Thitipong "Jeep" Chindavijak (CSSEA Managing Director), Wasin Suknikom and Nutthanun Chotinavin (CSSEA Application Engineers) coordinated the event by presenting material and offering hands on assistance to all our attendees. Our International Sales Manager – Global Project Coordinator, David Daines from Campbell Scientific, Inc. also made the trip all the way from Logan Utah to meet our SE Asian distributors and provide a very experienced insight on World Bank-type funded projects and how to manage these, a reflection of the globalisation trend our industry is currently being exposed to. His presence and contribution was a great asset to the conference.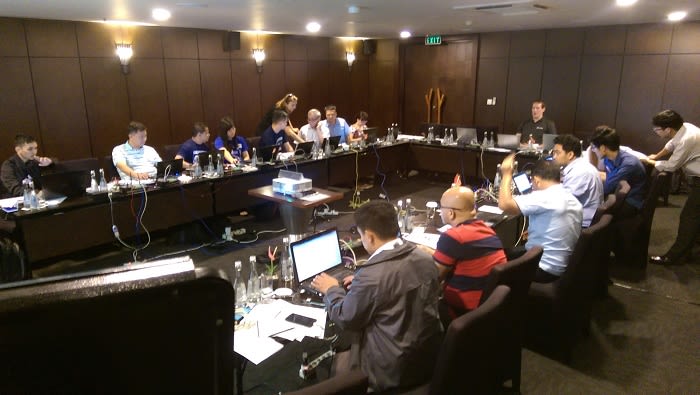 Hands-on technical training
The event was twofold with the first couple of days focusing on analysing our successes of 2015, identifying our challenges and suggesting strategic tools suitable for each country. The last two days of the conference saw hands on sales and technical training delivered to our distributor team members with a higher focus this year on communication techniques, advanced programming as well as new products and applications. In between our 2 conference sessions, we decided some team bonding would be welcome. The day saw us take a bus to visit some of the many wonders of Bali. The day was a huge success with great company, beautiful scenery and craftwork, and of course a little bit of fun thrown in.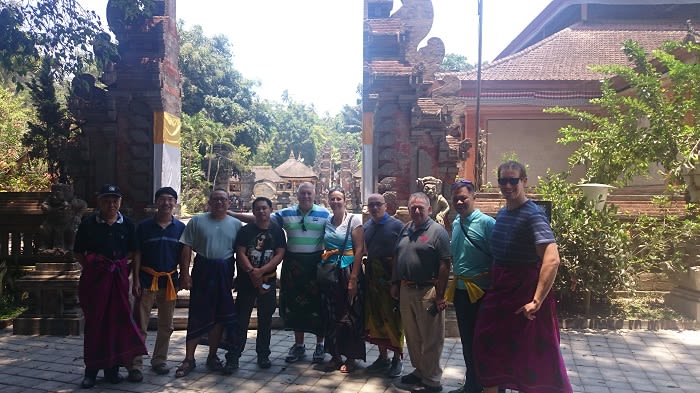 Visiting one of the many wonders of Bali: the Water Temple in Tampaksiring
The camaraderie between all of our representatives was contagious and made the event a real success and pleasure to attend. CSA would like to thank all attendees for their contribution, dedication and personal involvement in our collaboration towards representing Campbell Scientific products, services and culture within SE Asia.
Hope to see you all again next year!