MET200 Weather Stations – Professional Weather Monitoring Made Simple

Campbell Scientific weather stations are world renowned for their quality, reliability, flexibility and longevity. Furthermore, they're now easier than ever to deploy thanks to the new MET200 weather stations from Campbell Scientific Australia.
The MET200 Meteorological System recently launched in July 2015 is already proving to be a popular option for clients wanting quality meteorological measurements in a complete turnkey package. Utilising rapid deploy mil-spec connectors for faster field installation, these stations are simple to install, and specially designed to withstand the harsh Australian environment.
With a MET200 system, Campbell Scientific have already done all the hard work for you. Systems are supplied programmed and pre-wired ready for deployment. Simply select your communications and mounting options for the Core Unit at the time of placing your order, along with your sensor choice(s) from the 5 available options. The system will be dispatched to you pre-configured, with all your required mounting brackets for rapid deployment. It really is that simple!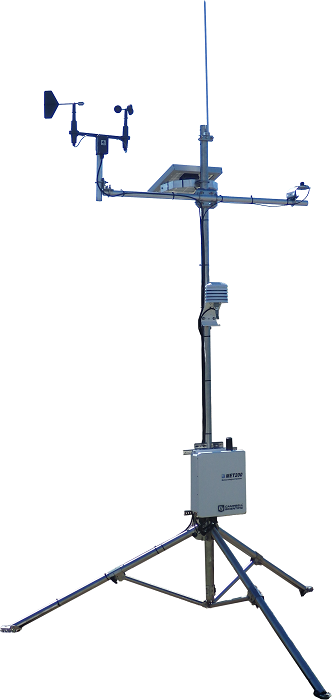 MET200 Ordering Options
Core Unit (Required):
MET200
Mounting Options:
-3M (3 metre Ground Mounting Pole with Lightning Protection Kit)
-TPK (2-3 metre Galvanised Tripod with Guy Wires and Lightning Protection Kit)
Communication Options:
-IP (Next G Modem Kit)
e.g. MET200-3M-IP
MET200 Sensor Options
CS215-MET2 – Air Temperature and Relative Humidity
03002-MET2 – Wind Speed and Wind Direction
CS703-MET2 – Rainfall
SP-212-MET2 – Solar Radiation (sun plus sky)
CS106-MET2 – Barometric Pressure
MET200 PakBus Routing and Data Hosting Service
Campbell Scientific Australia is also pleased to announce our new MET200 PakBus Routing and Data Hosting Service.
What is PakBus Routing?
With PakBus Routing, a client configures their LoggerNet software to connect to Campbell Scientific Australia's LoggerNet Server. This IP traffic is then routed through to the clients MET200 weather station, which is pre-configured to connect back to the same LoggerNet server. For a small monthly fee, Campbell Scientific Australia will manage this communications link, to make it simple and easy for clients to directly access their remote MET200 weather stations.
What is MET200 Data Hosting?
For clients wanting a web based interface to view real-time MET200 Weather Station data, MET200 Web Hosting is the solution for you. For a small monthly fee, Campbell Scientific Australia will provide a MET200 web interface, allowing clients to access their data from any computer with an internet connection. For a sample MET200 web interface, click here weather.campbellsci.com.au/met200 to see live data from Campbell Scientific Australia's MET200 weather station located in Townsville, North Queensland.
For further information on our MET200 Weather Stations and our PakBus Routing and MET200 Web Hosting Services, call 07 4401 7700 to speak with one of our Application Engineers or email sales@campbellsci.com.au