Campbell Scientific Australia recently exhibited at the Ninth International Symposium on Field Measurements in Geomechanics (FMGM), held in Sydney. On display were a range of new Campbell Scientific products for the Geotech and mining industry, including our new CRVW3 3-channel Vibrating-wire datalogger, our soon to be released VWAnalyzer (Vibrating Wire Analyzer), the powerful CR6 datalogger with built in Vibrating-Wire, as well as our ground breaking CDM-VW300 Dynamic Vibrating-Wire Analyser.
Representing Campbell Scientific Australia were Daniel Roebuck (Application Engineer), David Hammond (Sales & Business Development Manager) and Robert Kurz (Managing Director) from Campbell Scientific Australia. Also attending was Shaun Dustin, Market Manager for the Structures, Industrial and Geotechnical (SIG) Group at Campbell Scientific Incorporated, Logan, Utah. As well as providing an opportunity to showcase our latest Geotechnical instrumentation, it was a great opportunity to meet face to face with end users of our products and our Value Added Resellers who provide integrated solutions into the Geotechnical industry built around our trusted hardware and software solutions.
CRVW3 - Vibrating-Wire Measurements, Simplified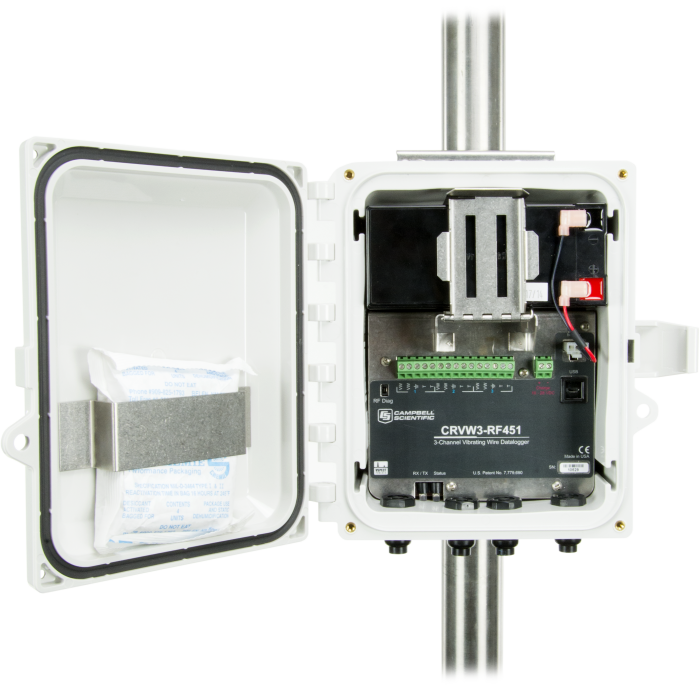 The CRVW3 vibrating-wire datalogger uses Campbell Scientific's patented Vibrating Wire Spectral Analysis (VSPECT) technology and includes an integrated 900Mhz spread spectrum radio. The CRVW3 can also act as a repeater, and is supplied turnkey in a dedicated enclosure with integrated charging regulator and a battery. Suitable for applications such as borehole pore water pressure monitoring, the CRVW3 simplifies on-site installation by providing a small form-factor turnkey system which is easily configured using our Device Configuration Utility Software.
For more information on the CRVW3 and our other products and solutions for the Geotechnical and Mining industries you can visit our website www.campbellsci.com.au, call 07 4401 7700 to speak with one of our Application Engineers, or email sales@campbellsci.com.au