All sensors and measurement equipment will require calibration, maintenance, and repair at intervals throughout their lifetime.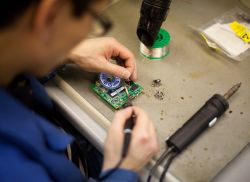 Regular calibration and maintenance ensures measurements remain precise and that output is accurate and reliable. Planned calibration and maintenance services are the most effective way to ensure uninterrupted measurements and data flow.
Several of our facilities contain a comprehensive collection of testing and calibration equipment, and our experienced technicians are trained to provide high-quality, efficient repair and calibration services.
Returning products for repair and calibration
Before returning any equipment for repair or calibration, please contact us first to obtain a return material authorization (RMA) number. To find out how to do this, visit the RMA repair page.
Field repairs and maintenance
If you require support in the field, visit our Installation, Commissioning, and Maintenance Services page and contact us to discuss your requirements.