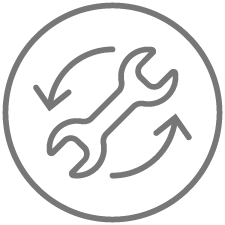 Campbell Scientific offers a variety of services, including calibration, repair, and maintenance. Please follow the guidelines below if you would like to return a product for servicing.
Please note the following:
The guidelines on this page apply only to customers residing in countries served by Campbell Scientific Australia directly. Affiliate companies handle repairs for customers within their territories. Please visit our Contact Us page if you need to find out which organization serves your country.
Products may not be returned without prior authorization and an Return Material Authorization (RMA) number. This RMA number will have to be listed in our RMA Form to be returned with the equipment for repair or calibration (instructions listed below).
All products returned for service must be (1) clean and (2) uncontaminated by harmful substances, such as hazardous materials, chemicals, insects, and pests.


Repairs or Maintenance
When sending back equipment to CSA for repair or calibration, you will need to follow the below procedure:
Contact CSA and obtain an RMA number for the items to be returned. This RMA number allows CSA to track your device when received at our shipping dock. CSA will create a ticket for this repair/calibration so that it can be followed by all people involved in the process (customer, administration, shipping, repair and application engineer groups)
Fill in an RMA form (including the RMA number provided) and the decontamination form.
Email back the filled RMA form and Decontamination form through the ticketing system.
One of our friendly staff member will then get back to you with a shipping label and shipping instructions.
Print a copy of the RMA form and Decontamination form to include in your shipment
We appreciate your cooperation in making this return process a successful operation.
Note: Any returns received without accompanying documentation are likely to be delayed and may attract an administration fee.