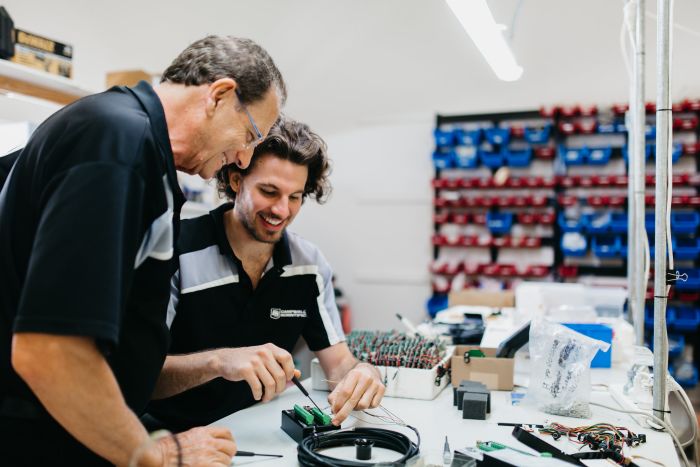 Why take a training course? Read the article Data Logger Confidence: How training can further your career and put you ahead of the crowd.
Campbell Scientific offers several different multi-day training courses for our data loggers and software. These comprehensive courses are designed for those without much data logger experience, or for those wanting to increase their knowledge. The courses have an emphasis on programming; see individual courses for itinerary. "Hands-on" programming exercises and course handouts are used to reinforce the concepts covered by the instructors.
Field Operators Training Course - 1 Day
Our 1 day Field Operators course is geared toward installers and field operators of Campbell Scientific data loggers and equipment. The course covers an introduction to using Loggernet software, best practice for installation of a weather station and significant discussion regarding troubleshooting techniques and maintenance procedures when conducting site visits. Whether you are a new or experienced user, the course will provide you with the ability to connect to data loggers, install and check instruments as well as what to do when troubleshooting issues.
Programming & Software Training Course - 2 Days
Our 2 day Programming and Software course is suitable for all users of Campbell Scientific data loggers.
The first day of the course provides a good introduction to using our software to administer, program and collect data from the new generation of data loggers. The second day will teach you the basics of customising a datalogger program to suit your sensor and data storage requirements.
Suitable for users of CR200, CR800, CR1000 or CR3000 data loggers, beginners are welcome. Bring along any sensors that you are using with the data loggers and we can help with any wiring or programming concerns.
Communications Course - 2 Days

Our 2 day communications course is aimed at intermediate to advanced users of Campbell Scientific data loggers wanting to learn how to program for and connect their data loggers to communication networks. The course covers cell phone modems, ethernet networks and spread spectrum radios, how to connect them to the data logger and how to program for these devices to provide information over services such as Email, FTP and SMS. We also cover methods for connecting to and administering a data logger via Loggernet over these communications devices.
There is some intermediate difficulty programming to be done in this course, please make sure that you have had some experience with programming the data loggers before attending or you may not gain the full value of the material. Ideally you will have previously attended the 2 Day Programming and Software Course or the 3 Day CRBasic Programming Course and had time to practice the concepts from those courses.
Contact Campbell Scientific for training at your location or customised courses.