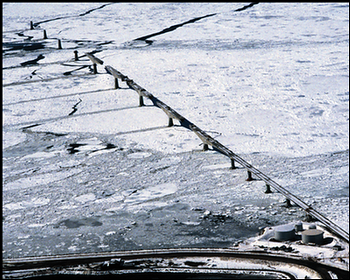 A research project is currently under way on the Confederation Bridge, which links Prince Edward Island to mainland Canada. The purpose of the project is to study the short- and long-term performance of the 12.9 km bridge and develop strategies for operating, maintaining, and upgrading it. Campbell Scientific data loggers are used to monitor ice force, deformation in the bridge structure, thermal stress, traffic load, and vibration. Data is transmitted to Carlton University and the University of Calgary for further analysis.
Case Study Summary
Application
Monitoring ice impacts, thermal stress, load, short- and long-term deformations, and vibration on a one of the world's longest continuous prestressed-concrete, box-girder bridges
Location
Confederation Bridge, Prince Edward Island, Nova Scotia, Canada
Products Used
CR9000X
Contributors
Mike Montreuil, National Research Council; John Halloran, Campbell Scientific, Inc.
Participating Organizations
A consortium of government,industry, and academic institutions
Measured Parameters
Strain, temperature, vibration, tilt
Related Website